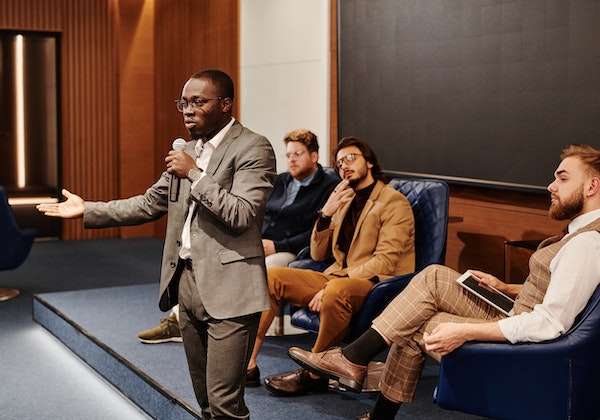 With the comeback of in-person events, speakers bureaus have significant opportunities in the post-pandemic landscape, according to my interviews with Richard Schelp, Owner and President of Executive Speakers Bureau, Caitie Bradley Shea, CEO & Co-Founder of Outspoken, and Lisa Warren, Partner, Senior Account Executive at SpeakInc.
Opportunities for Speakers Bureaus
Schelp notes, "Because we now have multiple solutions to provide organizations for their events (in-person, virtual, and hybrid), the opportunity for overall revenue growth is a reality." Shea emphasizes "Accessibility, accessibility and accessibility. COVID forced us into a world where we had to use technology—that frankly already existed—to keep audiences connected, educated and entertained." For Shea, virtual and hybrid options provide more chances to book speakers and reach new audiences, fueling new speaking opportunities.
Warren sees opportunities for SpeakInc to expand engagements and deepen client relationships, earning trust through challenging times. While virtual meetings fill some needs, in-person events remain invaluable for rewarding, inspiring and strengthening connections.
Challenges for Speakers Bureaus
However, speakers bureaus face substantial challenges. Warren cites rising speaker fees amid budget constraints, client turnover requiring relationship-building with new planners, and lack of in-person visits to gain insights and build rapport. Shea works to guide clients on long-term diversity, equity, inclusion and belonging (DEIB) strategies in programming.
Schelp warns that some clients try booking speakers directly, believing they'll save money, making the jobs of speakers bureaus more difficult. Though virtual and hybrid events provide more options, they can be costly and time-consuming with technical difficulties, according to Warren. While speakers and bureaus have enhanced capabilities, engaging audiences in these formats remains challenging.
How Speakers Should Work With Bureaus
For speakers seeking representation, Schelp and Warren recommend finding intermediaries for introductions to differentiate from other requests. Warren suggests offering discounted or free speaking in exchange for quality video to share with bureaus. Shea advises demonstrating expertise, sharing strategies to stay relevant, and not relying solely on bureaus for opportunities.
Established speakers should remain highly adaptable to serve bureaus and clients well. Speakers should continue improving their craft, stay humble and easy to work with on all fronts, according to Warren. Shea appreciates speakers who allow bureaus to accommodate clients facing uncertainty, as abrupt changes, slow payments or technical issues may arise.
As an established speaker myself, their advice provided good reminders of the importance of refreshing my videos and the value of me being ETDBW, meaning Easy to do Business With. Just as importantly, I cultivated a national brand as a future of work expert – thus, The New York Times called me an "Office Whisperer" and "Hybrid Expert," which really appeals to keynote audiences. ·
Speakers Bureaus in the Future
Schelp believes "The future is very bright for some of the speakers bureaus. However, this is only for those who can adapt quickly and can adjust to the many changes that will occur in our crazy world. In my opinion, there will be fewer bureaus ten years from now than there are today because very few in the industry are willing to meet the requirements of being extremely nimble." According to Shea, "Flexibility and understanding is key for us. While our footing is a lot steadier in this post-COVID world than it was a year ago – bureaus still need to show compassion towards event planners who are still facing real uncertainty."
"We are already seeing a very healthy resurgence of in-person conferences and event planners yearning to create an opportunity for that human connection that can't quite be achieved through a screen," says Shea. "But we firmly believe that virtual/hybrid events are here to stay. And COVID has, for lack of a better word, forced us all to become familiar with connecting virtually." She continues, "When talking about the future of our industry, there's a feeling of abundance. We have been gifted this wonderful new way to connect our speakers to audiences all over the world without having to leave their homes. But we've also been gifted a deeper appreciation for connecting in-person and what a privilege that truly is."
Bureaus will continue providing a vital resource for event professionals facing substantial challenges, according to Warren. "Time and again, no matter the economic, political or health crisis, we learn the power of bringing people together, in-person and rewarding, inspiring and energizing them with curated perspectives and experiences."
Though Schelp's bureau experienced its most profitable year in 2022, the road ahead is not without difficulties. "The first significant challenge is going to be our ability to convince our clients to spend at the same levels for their speakers with the increased inflationary pressures, which is affecting their overall capability to have the same type of event with the same budget," he says. "Bottom line will they spend most of their money on the speaker, on food, or on facilities and where will they cut back?" Schelp continues. "Secondly, in general we have witnessed that Clients are increasingly stressed Post-Covid (pressures of losing their jobs, maintaining good employees, etc.). Therefore, they are quicker to go around us and try to book the speakers directly (believing that they will be saving money)."
While the desire for human connection fuels in-person events, health and safety concerns remain, according to Shea. "We have some time, but the inevitable changes and challenges that will come to our industry with climate change are hard to deny. While we should be more prepared for the evolution to mostly virtual programming as a long-term requirement or solution (to avoid a larger carbon footprint for both attendees and the speakers traveling), it will be our job to help heighten the experience for greater connection in those circumstances. A challenge that I don't think we've quite figured out over the last 3 years so there's much work to be done."
With pressures from multiple directions, speakers bureaus must demonstrate value to clients, speakers and audiences. "I anticipate that much more attention will be paid to every step of the process as clients are acquiring their speakers," Schelp says. "This means that contracts will be stuck in legal longer, clients will pay slower, and decisions will take much more time than in the past." Warren notes, "Coming out of the worst period of the pandemic, there were many times an autoresponder or LinkedIn post advised us our contact had moved on, which required us to forge a new relationship often with inexperienced planners – over Zoom -since in-person visits were not an option."
Conclusion
While the path forward holds obstacles, the future remains promising for those poised to navigate it. Speakers bureaus pioneering accessible, impactful and eco-friendly solutions will thrive, developing strong partnerships and thriving communities. With a shared commitment to connect and empower through transformative experiences, speakers bureaus and their partners will navigate challenges and opportunities ahead. By valuing accessibility, accountability, and adaptability, they stand ready to lead audiences into a brighter future. Though the road is long, the journey continues.
Key Take-Away
Speakers bureaus are finding opportunities to thrive by adapting to new formats and providing valuable solutions in the post-pandemic landscape…>Click to tweet
Image credit: Henri Mathieu-Saint-Laurent/Pexels
Originally published in Disaster Avoidance Experts on April 29, 2023