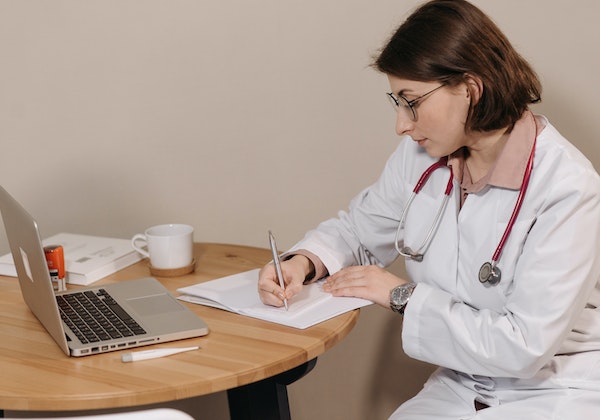 In a recent study of 150 small healthcare providers on hybrid work models indicated 56% saw increased productivity, with 31% reporting no change, and only 13% reduced productivity. In turn, 39% said they witness increased revenue, 51% say there's no change, and only 10% indicate reduced revenue.
If small healthcare providers can do so, larger healthcare organizations such as hospitals can surely adopt some aspects of hybrid work into their models. And in my experience helping hospitals adopt hybrid work strategies, I have seen many benefits in staff retention and recruitment, improving engagement, building collaboration and relationships, and reducing burnout. To learn more, I spoke on the benefits and challenges of hybrid work with Heather Sprague, Chief Human Resource Officer of Adena Health System, which has four hospitals and six clinics in rural south central Ohio.
The Benefits of Hybrid Work
According to Sprague, one of the biggest benefits of hybrid work is the flexibility it offers employees. Some people prefer a remote or hybrid work arrangement, and in some instances, it allows for more flexibility in terms of core hours. Sprague gave the example of Adena's billing department, where employees can work their eight hours between 6 a.m. and 6 p.m., as long as they get their hours in. This arrangement makes it easier for employees to balance work and personal responsibilities.
Another benefit of hybrid work, according to Sprague, is that it allows organizations to make better use of their physical space. Adena Health System is a healthcare provider, and with hybrid work, the organization can reduce the number of offices and use the extra space for clinical services.
Sprague noted that hybrid work allows organizations to attract talent from a wider geographical area. Adena Health System is located in south central rural Ohio, and the nearest metropolitan cities are an hour or more away. Hybrid work allows the organization to recruit people who live further away and may only need to come into the office once a week or less frequently.
Sprague also shared that Adena Health System offers telehealth services, and that the organization has found it to be an effective way to deliver healthcare services. With the pandemic, telehealth has become even more critical, and Sprague noted that there are new requirements coming out in the spring that will change some of the organization's ability to provide telehealth services.
Telehealth is particularly beneficial for behavioral health and counseling services, which can be effectively delivered virtually. Sprague shared that providers who offer telehealth services can work from home or from the office, depending on their role.
The Challenges of Hybrid Work
While there are many benefits to hybrid work, Sprague acknowledged that there are also challenges. One of the biggest challenges is maintaining a sense of connection and engagement with employees. Adena Health System is in the people business, and connecting with people is critical to the organization's mission. Sprague noted that building culture, engagement, and teamwork has been more challenging with hybrid work.
To address the challenges of hybrid work, Adena Health System has implemented two technology platforms: WebEx teams and Workplace from Meta. These platforms allow employees to communicate and recognize great work across departments.
Adena Health System has also implemented a program designed to help frontline leaders manage a hybrid workforce. The program offers best practices and tips on managing and engaging with remote employees.
Adena Health System conducts a pulse survey and engagement survey twice a year to gauge employee engagement. The organization asks employees if they are aware of their engagement action plan and if they saw the results of the last survey. If employees answer no to these questions, the organization can identify departments that are struggling with engagement and take action to address the issue. They plan to use the data to benchmark themselves with other healthcare organizations on similar questions.
Sprague's HR team partners with different business units and looks at specific departments or hospital's turnover rates, exit interviews, and turnover data to identify any issues or concerns. Sprague emphasized the need to be open to check and adjust when things don't work, as patient needs are their priority.
One of the most significant challenges of hybrid and remote work is training and onboarding. According to Sprague, it's hard to train and onboard new employees when they don't have the exposure of being in the office. Adena Health Systems has implemented an Emerging Leader program to pair up new employees with mentors or coaches to share expertise and provide exposure to opportunities they might not otherwise have.
Sprague also emphasized the importance of face-to-face interaction, stating that her organization still requires on-site attendance for new employee orientation, even for those who are working remotely. Adena Health System has a strict policy of requiring new employees to come on-site for certain things regardless of their location.
Integrating and training junior staff is another significant challenge for hybrid and remote work. Sprague explained that they require recruiters to be on-site for the first month to ensure they deeply understand the roles and jobs. Sprague said they also require hybrid workers to come on-site twice a week to get exposure and mentorship.
Adena Health System has launched the "Best Program," which is an emerging leader program designed to solve some of the issues related to integrating and training junior staff. The program includes a group project, allowing employees to work together across disciplines and provides a test scenario to determine if the program can help solve some of the issues related to integrating junior staff.
Future of Hybrid Work
Sprague believes hybrid work will continue to be an option for Adena Health System. She mentioned a study she read about hybrid bedside nursing, where there is some support for patients asking questions or needing reminders. She likened it to a hotel operator type model, where patients can ask simple questions or request something they need.
Sprague emphasized that Adena Health System is in the people business and that they need to be with the people they serve. She highlighted the importance of ensuring it works for both employees and patients and checking in regularly to ensure it's still working for everyone.
Sprague believes that the role of HR leaders in hybrid and remote work is to focus on the impact on the culture and ensure employee engagement remains high. She emphasized the importance of partnering with business units and identifying any issues or concerns, as well as being open to check and adjust when things don't work.
For example, Adena Health Systems encountered an issue with the case management department and utilization review, who were working remotely. They had to bring them back into the office as they realized the importance of having them work alongside the hospitalists for their in-patients. It was crucial for ensuring proper discharge planning and smooth transition care, which they found couldn't be achieved as well remotely. This is an example of how they couldn't make remote work satisfy their patients, and changed the location of staff to prioritize patient needs.
Conclusion
Hybrid work is an excellent way for organizations to attract and retain talent, but it also poses unique challenges. Adena Health System has found that implementing technology platforms, offering leadership training, and conducting regular employee engagement surveys are effective ways to address these challenges. By taking a proactive approach to hybrid work, healthcare systems can create a culture of engagement, teamwork, and connection that benefits both employees and the organization.
Key Take-Away
Hybrid work models in healthcare organizations offer benefits like increased flexibility, better space utilization, and wider talent recruitment, but also require addressing challenges of connection, training, and onboarding...>Click to tweet
Image credit: Pavel Danilyuk/Pexels
Originally published in Disaster Avoidance Experts on May 9, 2023