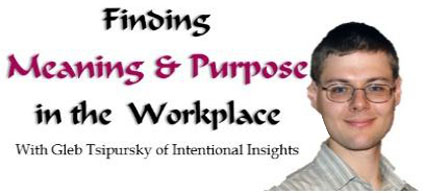 This video-based one-hour course will first evaluate the current sense of meaning and purpose among participants using a science-based questionnaire developed by Dr. Gleb Tsipursky.
Next, it will provide an overview of the science on meaning and purpose, and how it applies in the workplace. It will then offer specific strategies to cultivate a rich sense of meaning and purpose in their workplace.
Research shows that a workplace that cultivates a sense of meaning and purpose benefits both employees and employers. Employees who experience a greater sense of meaning and purpose in their work context enjoy better health and well-being. They have a significant decrease in physical ailments including catastrophic ones such as strokes and heart attacks, and a lower incidence of mental illnesses such as depression and anxiety. Consequently, they take many fewer sick days and have higher work capacity. As a result, employee work performance improves, and there is significantly less employee turnover.
Additionally, employees working with a sense of purpose experience a greater integration into their individual teams as well as the culture of the organization. Thus, employees show better teamwork, reduced team conflict, improved team communication, as well as becoming better organizational citizens and aligning with the higher-level goals of the organization.
Topics Covered
How one can evaluate one's current sense of meaning and purpose in their work
The science of meaning and purpose
The application of the science of meaning and purpose to the workplace
How well-known and high-performing companies develop a meaningful workplace
What are specific strategies that individual employees can use to cultivate a rich sense of meaning and purpose in their workplace
How teams within an organization can create an environment conducive to building a rich sense of meaning and purpose
How an organization can institute a sense of meaning and purpose throughout its organizational culture
Learning Objectives
How to more effectively coach executives on corporate culture
How to promote a more positive organizational culture
How to improve employee involvement strategies through meaning and purpose as a non-monetary reward
A free version of this course for a 1-hour continuing education credit certification is available for the following at this link:
Human Resources Professionals (HRCI, SHRM, AHRI, CHRP, CHRL, CHRE)
Certified Professional in Learning and Performance (CPLP)
Life Coaches and Conflict Coaches (ICF)