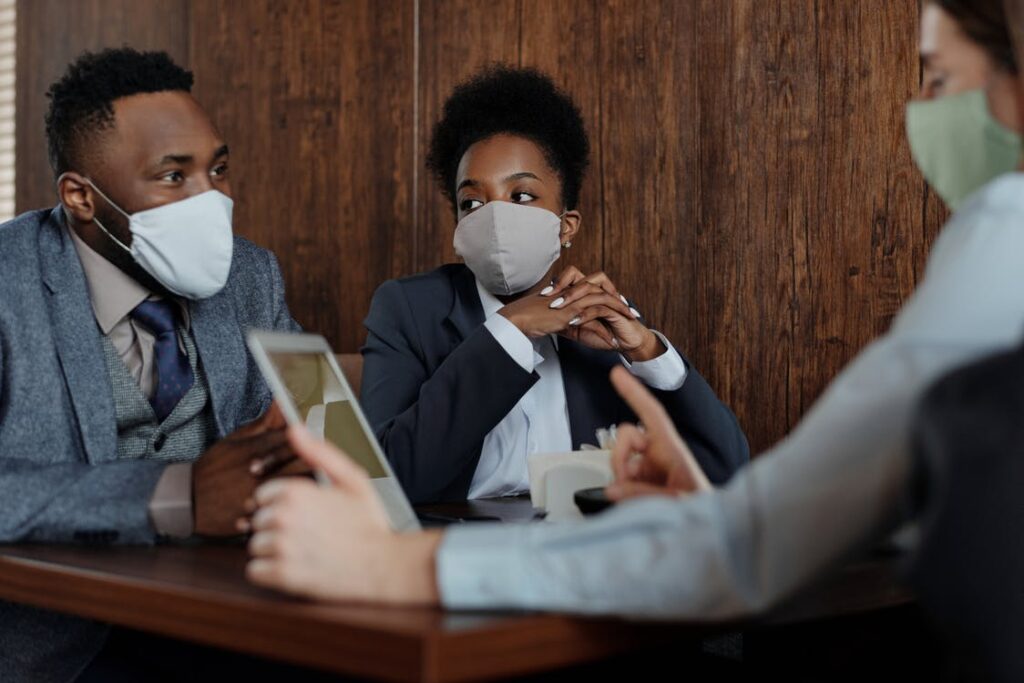 How should organizations reshape the hybrid office space to maximize productivity? What will the new workspace — inside the office and the home — look like in the future? We know it will be different from the spaces before the pandemic. To survive and thrive in the post-COVID world, you need to adopt best practices on returning to the office after the pandemic.
If you enjoy video, here's a videocast based on this blog:
And if you like audio, here's a podcast based on the blog:
Or simply read onward!
Our Hybrid Future
Surveys say two-thirds to three-quarters of employers intend to have a mainly hybrid schedule after the pandemic ends. Naturally, that applies only to employees who can do at least some work remotely. Surveys taken during the pandemic show that two-thirds (1, 2) of US workers occasionally work remotely, and over a half full-time, so this is the large majority of all workers.
More large companies than smaller ones intend to support hybrid models, according to survey responses. That means the overwhelming majority of employees who can do some work remotely will have the opportunity to do so.
Public statements backed up such responses by several companies. For instance, many large companies announced a switch to a permanent hybrid model of 2-4 days of remote work after the pandemic. These include Citigroup, Ford, Microsoft, Siemens, Salesforce, Target, and many others. Big companies decided to let most of their currently remote employees work from home permanently. This small but sizable number includes insurance giant Nationwide, tech firm Facebook and major drugmaker Novartis.
Most workers will come to the office a couple of days per week to work on collaborative tasks. The rest of the time, they will work on individual tasks primarily at home or elsewhere if they wish. Some employees in the hybrid-first model will be fully remote, depending on several factors. One is their preferences. A host of surveys (1, 2, 3, 4, 5, 6, 7, 8) indicates that about a quarter of all employees want a permanent and fully remote schedule after the pandemic. By contrast, two-thirds want a hybrid schedule. The remaining small minority prefers full-time in-office work.
An employee's desire to fully remote work is necessary but insufficient. The employee must demonstrate effectiveness in accomplishing their tasks which includes both their individual and collaborative team tasks. 
Some roles are well-suited to full-time remote work as they do not involve intense and systematic collaboration with others. The list might include accountants, call center staff, and so on.
In other cases, a team may decide that its members can fully collaborate remotely. They will do integrative tasks via videoconference and collaboration software. They will only go to the office once a quarter or so for a team-building retreat. 
The 12 organizations I helped guide in developing and implementing their strategy for returning to the office and their post-pandemic mode of collaboration chose to have a hybrid-first model with some remote options. Below, I outlined best practices on transforming workspaces based on these consulting projects and interviews with 61 leaders from these companies on their experiences in these transitions.
Use of Work Space
The primary use of the office going forward will not be for individual work, as it was before the pandemic. Instead, the office will serve as a shared space for collaboration and team-building activities for the majority of the employees. They will do their individual work at home, where people tend to be much more productive.
Some staff will end up doing individual work in the office. But, if you come to do a collaborative activity with a team, it will rarely take up the whole day. Employees might find it convenient to work in the office rather than working from home. Or, they might have breaks in their collaborative activities, which they may use to catch up on individual tasks.
They might choose to come to the office to use specialized equipment not available at home, such as commercial copiers. Or, they might come in when the city is doing loud construction outside their apartment. The small minority who want to do full-time in-office work might choose to spend their working hours in the office.
Still, the office will, by and large, be primarily for collaborative activities. Currently, typical offices have 80% of their space dedicated to personal use and 20% shared space. That needs to be changed. 
Also, you will need to change the home office spaces of your employees. It becomes your responsibility since they spend most of the hours they work for you in that space. It is critically important to make that space as well-suited as possible for productive, comfortable, and stress-free work. 
Reduce Your Real Estate Costs
A hybrid model will enable you to cut costs on real estate and related in-office services and products. The less frequently you have staff come in, the less real estate you will need. Consider this when deciding what kind of hybrid schedule to set for your workers after the pandemic.
It might be nice to see each other more often to catch up and bond. But, consider the following:
Companies for which I consulted planned out various scenarios for office space usage depending on how often they have employees come in for work. They found that having employees come to the office for three days per week means they can cut about 20-30% of their costs compared to before the pandemic. That is a very substantial saving.
However, if their employees come in only once per week, they can cut about 60-70% of their costs, which is a much greater deal.
See if you can encourage your team leaders to come in less frequently. Ask them to shift their working style to concentrate all the collaboration they need to do into one day. Some of the businesses I worked with adopted a 10-hour workday once a week in the office. Meanwhile, they had shorter days for the rest of the workweek at home.
Of course, do not force it. Some teams genuinely need to do a more intensive collaboration. But, do not discount the long-term cost savings of doing more at home and less in the office. 
Redefine Your Hybrid Office Space
Start adjusting your office space by planning for anticipated usage. Have each team leader indicate how often they plan to have employees come in and on which days of the week. Encourage some shifting of days of the week, primarily if too many plans appear on one day, and not enough on other days. 
One way to do so is to have team leaders rank their preferred days of the week from one to five. Then, use an algorithm to assign teams on various days and maximize preference satisfaction. It will enable you to minimize office space expenses.
Also, survey staff to track how many plans to come in on days when they're not required. Remember, some of your employees prefer to work when surrounded by others or have troublesome home office arrangements and may choose to come in even if their team stays home. 
Separately, determine your space needs for massive events. These might range from quarterly retreats to large-scale in-person pieces of training. For this, you can always rent other spaces if unavailable.
Next, make plans to decrease your real estate footprint accordingly. Consider arranging some of your office space in coworking venues. Doing so will mitigate the risks either of excess or insufficient space. The variety is due to some teams who will likely change plans as they adjust to hybrid work.
Next, you'll want to transform your office space layout. In the hybrid model, in-office work will focus much more on direct collaboration with team members. It involves working alongside other team members who you can quickly ask for clarification or to whom you can provide guidance.
You'll want to get rid of most individual cubicles and offices. Keep them at any level only for team leaders who need private spaces for sensitive conversations, as well as anyone else who needs such areas.
In most cases, you'll want to change the office space and technology to facilitate hot-desking. Unless your industry requires privacy or there are unavoidable good reasons, have the employees use laptops and retire desktops. Upgrade your video technology in shared spaces to facilitate meetings where some people will be videoconferencing from home. 
After all, some team members will choose to work from home permanently. In other cases, such videoconference technology will be necessary for cross-functional teams that don't come in on the same days. 
Four-fifths of the companies I helped guide in returning to the office chose to save substantial costs on remodeling for pandemic safety. How? They either mandated vaccination for all employees or only permitted vaccinated employees to return to the office.
To minimize liability, you'll want to keep to current OSHA guidelines about pandemic precautions. Still, the remodeling investments are mainly relevant for addressing employee safety and the risk of COVID-19 spread. Given CDC guidelines permitting indoor gatherings of fully vaccinated people, you'll minimize COVID-19 risks and employee anxiety by limiting your office for vaccinated people only.
One-fifth of the companies that chose to permit unvaccinated people in the office decided to invest in substantial remodeling and frequent cleaning, following OSHA guidelines. This strategy included installing commercial HEPA filters, physical barriers, hygiene stations, providing PPE, and so on.
Funding for Home Offices
With the hybrid-first model, the home office of your employees is now a permanent arrangement for your company. You have to ensure helping them avoid situations too many still face. These are, but not limited to, using their kitchen table for office space, relying on 5-year-old laptops, and having the basic broadband package with no backup options.
It is fundamental to provide a separate budget for your employees to address this problem. That includes funding a comfortable and well-equipped home office. It can mean paying for their membership in a coworking space, if there is no suitable room in their house, or if they feel unable to work effectively without others around them. 
To mitigate risks of internet outages or slowdowns, you will have to consider providing them with hotspot plans. You might address potential issues by providing funding and encouraging employees to take various steps toward risk mitigation from their homes. Remember, their home is now part of your company. You bear some responsibility for managing risks which includes risk mitigation and backup planning. Integrate them in your business continuity planning and Enterprise Risk Management strategies.
Altogether, an initial fund of $3,000 for the home office transition, plus an annual budget of $2,000 for maintenance, should be sufficient for most employees. Add at least $500 per year for working parents of young children to address parenting needs connected to working remotely.
Conclusion
The post-pandemic workplace will require a remodeled work setup so teams can make the shift successfully. Employers should learn and consider their employees' preferences when it comes to working with hybrid teams. This means the need to address office and home workspaces must also be incorporated into every business plan. Therefore, leaders should view research data objectively and use insights wisely to build a mutually satisfying workspace reality. 
Key Takeaway
Employers must devise effective modifications of hybrid office spaces. Employees' work requirements have changed. They will do mostly collaborative work in the office while doing their individual tasks at home…> Click to tweet

Questions to Consider (please share your answers below)
Does your view of the hybrid office space match those of your employees?

How will you remodel your hybrid office space to facilitate collaboration rather than individual work?

What steps will you take based on reading this article to ensure your organizational effectiveness for the long run?
Image credit: August de Richelieu
Originally Published at Disaster Avoidance Experts on July 20, 2021.
---